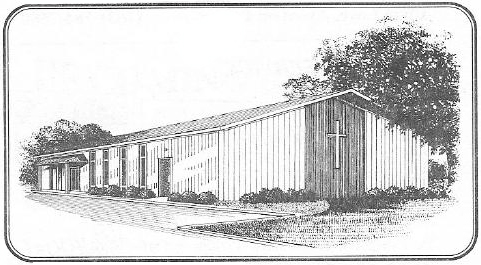 Beginning:  In the fall of 1962, weekly Bible studies were begun in the home of an interested family by Pastor Larry Johnson.  The first Sunday services were in January of 1963 with the official incorporation in January of 1964.  In February of that same year, the land was purchased on Hanson Blvd.
First Building:  The present parsonage was built in 1966 and served as both parsonage and meeting place for all services.
Church Building:  Construction of a separate meeting building, which now houses our young people's ministry, was completed in 1971.
Christian School:  Coon Rapids Christian School was added to our ministries in August of 1977.
Worship Center:  The Lord led in the construction of our current worship center in 1981.
Activity Center:  Built in 2005, the full-size gym with warming pantry and classroom serve various ministries of the church.  It provides space for banquets, fellowships, and youth activities.
Pastors: Larry Johnson began home Bible studies and was the first pastor. Edgar Mitchell followed in 1964 shortly after the church was incorporated, followed by Paul Cutler in 1969. Robert J Fuller Sr. began a long pastorate in 1972, with Will Peterson following in 1996. Nathan Huston became pastor in 2012.